Make Your Desk Your Space!
1st to 18th October Join us!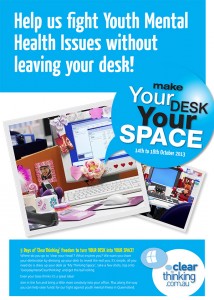 One in four young Australians suffers a mental health issue before the age of 25. For the majority, it emerges in their teens, unfortunately nearly half of those will remain untreated. That's why ClearThinking is working to give our kids a clearer, better future.
So join us and Make Your Desk, Your Space to show your support. Just decorate your desk or work cubicle in support of young Queenslanders suffering with mental illness.
Register now, get your family, friends and colleagues to donate via your "Make Your Desk, Your Space' supporter page. hosting information lookup . domain tech info . ip analysis . Zihorngreencompcour
< Back