LOSE YOUR MIND
LOSE YOUR MIND uses Virtual Reality to FULLY IMMERSE you into the experience of a young person having a psychotic episode.
LOSE YOUR MIND explores the world of psychosis in a respectful, meaningful and emotionally engaging way.  It is an exercise in enlightenment and empathy.
Watch this fantastic QUT Student news video about LOSE YOUR MIND.
=======
LOSE YOUR MIND workshops are designed for anyone who works with teens or young adults and woul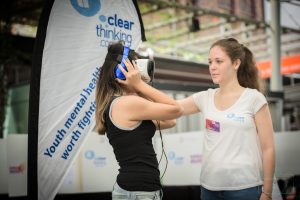 d benefit from an emotionally engaging discussion about mental illness and the best strategies for communication and early intervention. Guidance Counsellors, teachers, social workers and university students especially find the workshops beneficial.
=======
Developed by ClearThinking Qld, participants will experience first hand what it may be like to live with a mental health disorder. They will be given the opportunity to utilise a Virtual Reality experience facing the severe distractions that so many young people suffer through in their daily lives. The LOSE YOUR MIND project is a creative and very real way for participants to experience the realities faced by so many of our Queensland youth.
Psychosis is more prevalent than commonly thought and can be brought on by depression, anxiety and high stress situations. One in four young Australians will suffer a mental health issue before the age of 25.
For more information contact admin@clearthinking.com.au
=======
< Back